Details
Package ID

vscode-oracle-devtools

Version

19.3.2

Downloads

71

Website
Summary
Develop SQL and PL/SQL with Oracle Database and Oracle Autonomous Database
Description
This extension enables editing and execution of SQL and PL/SQL for Oracle Database and Oracle Autonomous Database.
Features
Connect to Oracle Database and Oracle Autonomous Database using EZ Connect syntax, TNS connect aliases, or ODP.NET connection strings
Create and manage connections and track most recently used connections
Oracle Database Explorer tree control: connect and explore the Oracle schema; view table data; view, edit and save PL/SQL packages, procedures and functions. Run stored procedures and functions with a UI for entering parameter values
Edit SQL and PL/SQL with autocompletion of schema object names, intellisense, code snippets, and syntax coloring
Execute SQL and PL/SQL and view and save results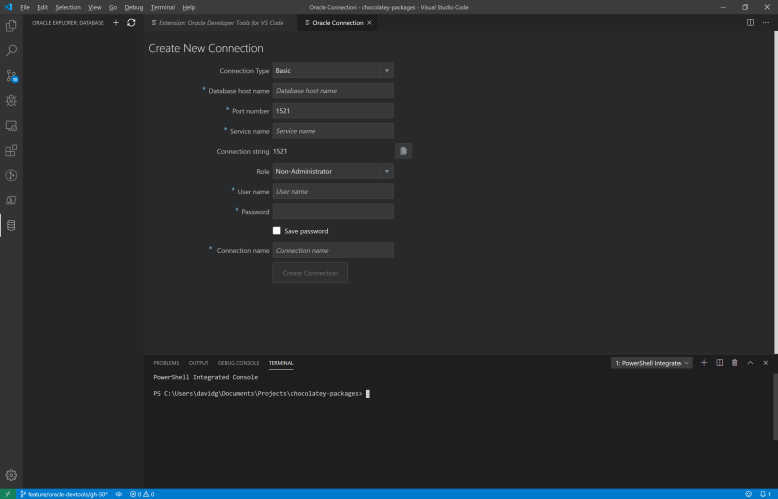 Notes
This package requires Visual Studio Code 1.27.0 or newer. You can install either the vscode or vscode-insiders package.
The extension will be installed in all editions of Visual Studio Code which can be found.
While this package installs a specific version of the extension, Visual Studio Code by default will update the extension to the latest version on startup if there's a newer version available on the marketplace. See Extension auto-update for instructions on how to disable auto-update.
This package is automatically updated using the Chocolatey Automatic Package Update Model (AU). If you find it is out of date by more than a day or two, please contact the maintainer(s) and let them know the package is no longer updating correctly.
Comments