Home > Software > Development > Revision Management > VisualSVN Server

Details
Package ID

visualsvnserver

Version

4.2.2

Downloads

4162

Website
Summary
VisualSVN Server allows you to easily install and manage a fully-functional Subversion server on the Windows platform
Description
VisualSVN Server allows you to easily install and manage a fully-functional Subversion server on the Windows platform. Thanks to its robustness, unbeatable usability and unique enterprise-grade features, VisualSVN Server is useful both for small business and corporate users.
Features
Active Directory Single Sign-On
Multisite Repository Replication
Backup and Restore
HTML5-powered Web Interface
PowerShell Scripting and Automation
Repository Management Delegation
Remote Server Administration
Access and Operational Logging
Free for commercial use!
Notes
There is a single package for both Standard and Enterprise editions of VisualSVN Server. Upgrade to Enterprise Edition by entering a license key. See more about version differences on the official location.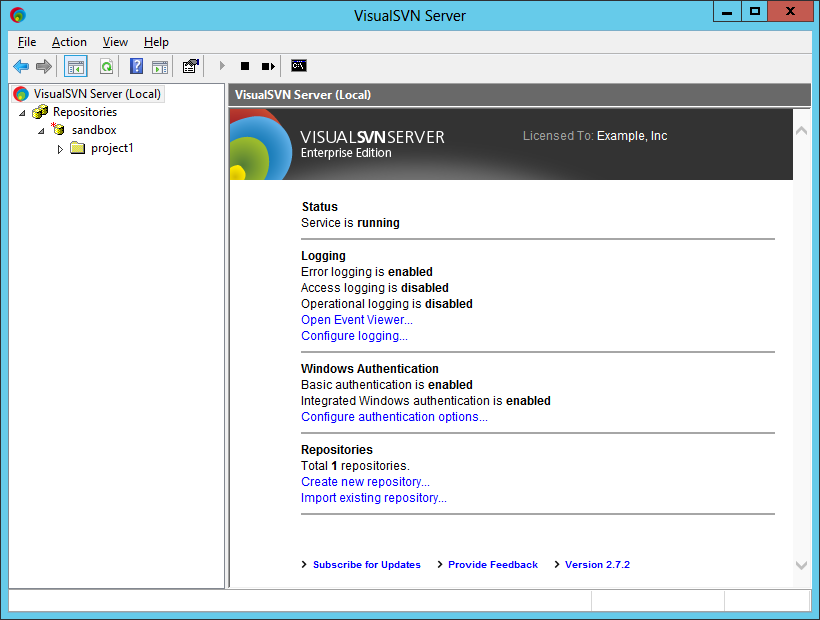 Comments